Promotional Travel Mugs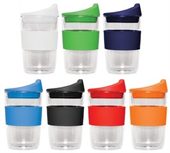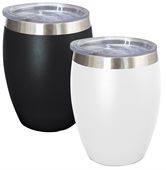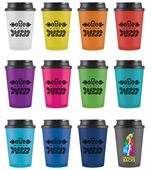 Our website has a huge selection of promotional travel mugs that your company can use for promoting and advertising your business. Merchandising is simple with our great selection of company coffee mugs and custom printed mugs.
Print your business information onto any of our promotional travel mugs using a direct printing process and the mugs will be heated in a kiln to ensure that your details are permanently displayed on the coffee mug. We have coffee mugs as well like our cappuccino cup, promo coffee cup, coffee cup and saucer and stainless steel coffee cups that can all make wonderful and personal promotional gift items for the holidays or other special occasions.
Just a few of our best selling Promotional Products in Travel Mugs
Creative Promotional Gift Ideas
Need a clever giveaway for your travel supply store's grand opening day? Are you looking for a nice favour for your upcoming fitness-themed party? Or, do you want something cool to sell or distribute at your next trade show to get the attention of prospective customers? If so, look no further than our range of promotional travel mugs. Office Promotional Products offers that best travel mugs for you to explore, all waiting to be branded with your custom logo and other information. Colours, materials, and prices are varied, so there's something for everyone for sure.
We have travel mugs made of plastic, ceramic, metal, and glass. As the name suggests, all these mugs are suitable for travel. Each of them includes a lid that prevents leaks while walking or driving. Some have ergonomic handles, and others have special non-slip grip, so you can hold them firmly. Spread brand awareness in schools, offices, construction sites, banks, restaurants, coffee shops, fitness centres, and just about anywhere with our promotional travel mugs. Add your logo or special message on each of these mugs, so every time they reach for it, they will remember your company.
Our promotional travel mugs are perfect for just about any occasion and promotion. But if you're looking for something classy that will impress high-end clients and busy executives, go for our printed metal mugs. Most of these mugs are made of double wall stainless steel with vacuum insulation to keep drinks hot or cold for longer.