Promotional Sticky Postit Notes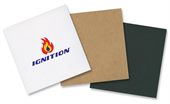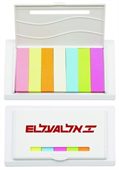 It's very handy to have a promotional post-it note around when you need one. So with that in mind, who would say no to a pad of stuk notes with your custom logo on the front. Please feel free to look around our website and you will be impressed by the large selection we have on offer, not to mention the wide variety of gift ideas for adhesive office note pads we have in stock.
If you are stuck for some creative and imaginative ideas for promotional post it notes to add to your merchandise range, may we suggest recycled sticky note pads which are great eco friendly promotional products that are made from recycled materials that won't harm the environment.
Just a few of our best selling Promotional Products in Sticky Notes
Creative Promotional Gift Ideas
Keep your brand on display with our promotional sticky post-it notes. Sticky notes and flags are an excellent giveaway not only because they are popular and affordable, but also because they are effective in boosting brand recognition. Almost everyone needs to write down something. Whether it's making a shopping list, taking down notes, or creating short reminders, people need something to write on. Giving away sticky notes that are decorated with your logo will surely increase your exposure because people will see your brand every day.
Our collection of custom sticky pads work great for schools, universities, tutorial centres, publishers, bookshops, and offices, but they are also ideal for different businesses like restaurants, coffee shops, travel agencies, and real estate. You can also use them as party favours, holiday gifts, classroom rewards, or whatever you'd like. We supply them in different styles, shapes, and colours; and with over a hundred custom sticky pads to choose from, so you're sure to find the ones that will best represent your company. Some of our best-selling products in this range are standard sticky notes, sticky notes combo, and cube desk pads. We also have custom-shaped sticky pads, sticky flags with letter opener, sticky notes spiral bound, and recycled sticky notepads.
To accompany your customised sticky pads, we also offer personalised rulers, available in many styles and colours. These are a perfect option to increase brand recognition in schools and workplaces. For cheaper options, we have basic plastic rulers. But if you are willing to spend a little more to impress your prospects, go for our metal rulers or multifunction rulers, which are equipped with sticky flags, pen holder, calculator, or alarm clock.