Neck Pens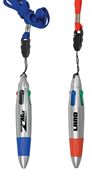 Multi-Colour Pens can be customised with your logo choice.
350 min qty
Retractable Neck Pens cannot be surpassed for value
150 min qty
Lanyard Pens come in an array of different designs, including as advertising neck pens, specialised neck pens, discount neck pens and functional neck pens. These promotional pen gifts will be the centrepiece to your next big marketing push, thanks to the widespread use of pens in any workplace and the form and functionality of each unit.
These sleek and compact lanyard pens fit around your neck, making life easy for professionals who are constantly on the move, like nurses. These prime neck pens will be hot items when handed out at the next big trade show, but will do just as well during any in-house team building exercise, incentive program or during any corporate-sponsored campus event.